Duane Benson is my hero. Why? Well, he's planning on building a robot avatar for himself, and he says that he will also build one for yours truly!
As you will doubtless recall, Duane is a microcontroller expert. In the past, he's used microcontrollers in his robot projects, but these devices are starting to run out of "oomph" when it comes to the more sophisticated, computationally intensive tasks he now wishes his robots to perform. This is why Duane is learning all about how to design with FPGAs. He's documenting his progress in his Discovering FPGAs series of columns here. (See: Discovering FPGAs: What's This All About?.)
I was chatting with Duane on the phone, and our conversation turned to the topic of robot avatars. You would be amazed just how many of these little rascals there are around. For example, the Telesar V Telexitstance Robot from researchers at Japanís Keio University is a real beauty.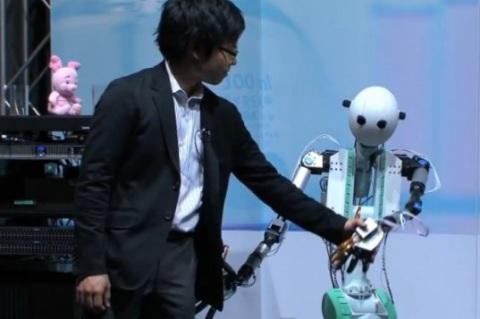 The Telesar V is an incredibly sophisticated beast. In addition to accurately mimicking the movements of its operator, it can also transmit back sensory experience to the user. Wearing a headset with virtual reality goggles, for example, you can see and hear what the robot "experiences." Furthermore, by wearing a pair of sensor-equipped gloves, you can feel the shape and temperature of any objects the Telesar V touches or picks up.
Of course, I would not even like to think about how much it would cost to build something like a Telesar V. Also, something this complex would be way outside the scope of a hobby project. Fortunately, we don't have to create anything this complicated. A much more achievable version might look something like the VGo from VGo Communications. These little scamps are already being deployed in places like hospitals (for doctors to perform remote consultations) and schools (to allow sick students to keep attending classes and hanging out with their friends).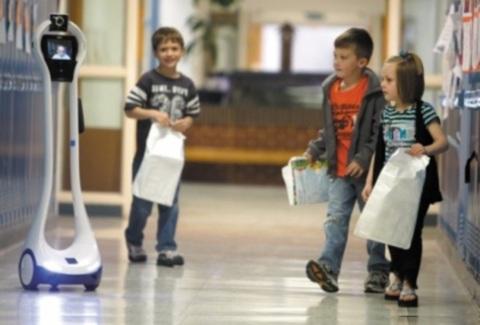 So, what could you use something like a VGo for? Actually, I can think of all sorts of uses. For example, it would be great to have one at home so I could converse with my son when he returns from school and make sure he's doing his homework. I'd also like to have one in my mom's apartment in the UK so I could visit with her for a few minutes each day. Of course I can call her on the phone, but having a robot avatar that allowed her to see my face and that gave the impression of my "being there" in person would dramatically increase the user experience.
At the moment, Duane and I are still in the very early planning stages. We would like to make this as open-ended as possible by including support for the addition of all sorts of sensors in the future. I have all sorts of ideas popping into my head. For example, it would be great if our avatar could support a mix of direct user control along with some automatic decision making. For example, I want to be able to use the mouse on my computer to instruct the robot where to go and where to look. But once I've locked it on someone like my mother, for example, it would be great if it would automatically follow her around the apartment while avoiding obstacles and making sure it didnít get under her feet.
Or suppose there were several people in the room. It would be great if the avatar's head could automatically turn to look at whoever was speaking at any particular time. All of this is going to require a tremendous amount of computation and sophisticated motor control and signal processing, which is -- of course -- where FPGAs come into the picture.
As I say, we are currently in the very early planning stages, so this would be a great time for you to offer your suggestions. Duane says that we might do this as an open-source project so that anyone could build their own robot avatar when we've finished. Actually, while I think about it, Duane says he could do with some help on the mechanical side of things if anyone is interested in becoming involved.
I tell you, my head is buzzing with ideas. One problem is that we havenít even thought of a name for our little beauty. Do you have any suggestions?