My degree is in control engineering -- a core of mathematics with "surrounding" subjects of electronics, mechanics, and hydraulics and fluidics -- all of which might go some way to explain the drooling and my highly strung nerves.
In those days of yore -- shortly after the reign of the dinosaurs, as I recall -- the most sophisticated form of control algorithm was the proportional-integral-differential (PID) technique. Just to remind ourselves, this algorithm calculates an "error" value as the difference between a measured process output variable and a desired set-point. The controller then attempts to minimize this error by adjusting the process control inputs.
Heuristically, the P-I-D terms can be interpreted in terms of time: "P" depends on the present error, "I" depends on the accumulation of past errors, and "D" may be thought of as a prediction of future errors, all based on current rates of change. The weighted sum of these three actions is used to adjust the process.
Since those far-off days, a lot of interesting ideas have appeared on the scene. For example, there's fuzzy logic, which is similar -- in a way -- to human reasoning in that it allows for approximate values and inferences as well as incomplete or ambiguous data (fuzzy data) as opposed to only relying on crisp data (binary yes/no choices). Fuzzy logic is able to process this incomplete data and provide approximate solutions to problems other methods find difficult to solve.
Another area of interest to me is that of genetic algorithms, which mimic evolutionary processes in the natural world, specifically, those of natural selection based on the "fitness" of individuals in a population that evolves by exchanging genetic material and also by random mutations. Although the whole concept of genetic algorithms might seem a bit nebulous, their use of pseudo-natural selection and mutation allows them to explore a greater range of potential solutions than do more conventional search techniques, and to converge on optimal results in complex solution spaces faster and more efficiently than other approaches.
Some people think that fuzzy logic is wonderful -- others are not impressed. I plan on discussing all of these techniques (PID, fuzzy logic, genetic algorithms, and more) in the context of FPGAs in future columns. As part of this, one thing I've wanted to do for quite some time is to create some sort of a test platform to evaluate, say, a PID control algorithm versus a fuzzy logic control algorithm. I think I may have found the ideal solution. Consider the following image: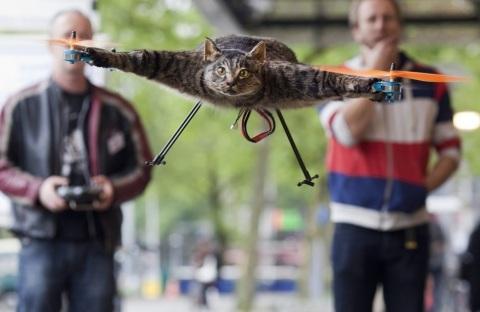 It seems that, following the tragic passing of his cat due to a fatal encounter with a car, Dutch Artist Bart Jansen turned the remains of his feline friend into a remote-controlled quadrotor helicopter. (I now predict a very interesting future for our two cats... a future that might come "sooner rather than later" if you catch my meaning... but that's a story for another day.)
Some of the comments I've seen relating to this are rather funny. One person asked, "Has the US military expressed any interest yet?" Another said, "Can you imagine waking up at 3:00 a.m. and seeing that hovering outside your window?" And another commented, "Excellent! Now all it needs is a mouse pilot wearing tiny goggles sitting on the cat's back."
But we digress... In order to achieve the rock-steady level of control we require -- especially with regard to the formation flying discussed below -- I think we need the massive processing power of a Zynq-7000 with its dual ARM Cortex-A9 processors coupled with its programmable FPGA fabric. (See: What's New: Power to the Zynq-7000 EPP ZedBoard.)
What I'm thinking is that this would make a great test platform to play with both fuzzy logic and genetic algorithms. The idea is that we would use a genetic algorithm to establish the optimal set of fuzzy membership functions (including their envelopes and parameters) to control "The Beast."
But wait, there's more... Suppose we all made one. Then, when we one day have our All Programmable Planet "meet-and-greet" in some exotic location, we could all being our flying cats and perform demonstrations of formation flying that will delight and entertain the gathered throng. Perhaps this would look something like the following TED video (this is well worth watching in its entirety, but start at the 10:00 minute mark to see the formation flying):
Now, imagine something like this but with flying cats, each carrying a mouse pilot on its back, and with suitable "Dam Busters" type music playing in the background. (Yes, of course the mice will be wearing goggles and white silk scarves. And yes, of course we -- the operators -- will also be sporting matching goggles and scarves, otherwise the whole exercise would be pointless, wouldn't it?)
So, what say you chaps (and chappesses)? Are you with me?