A few months ago, I came across a YouTube video of a mega-cool implementation of the Tetris game created by the folks at SparkFun. If you look at the video below, you will see that -- in addition to containing a tri-color light-emitting diode -- each pixel (picture element) also acts as an input device in the form of a push-button.
Now, truth to tell, I've never been much of a game player, be it board games or computer games, but I'm a sucker for flashing colored lights ("Oooh, shiny!"). As soon as I saw the first video, it totally captured my attention, so I rooted around YouTube some more, and found other demonstrations of various effects one can present on such a panel; for example, the "Droplets of Color" effect shown in the following video:
Initially, I wondered if the folks at SparkFun offered these panels for sale, but it turns out that this was just a one-off creation they had built using various "bits and pieces" they sell. In fact, Chris Taylor was kind enough to send me a couple of items to play with. First of all, we have a translucent silicon rubber button pad with 16 buttons: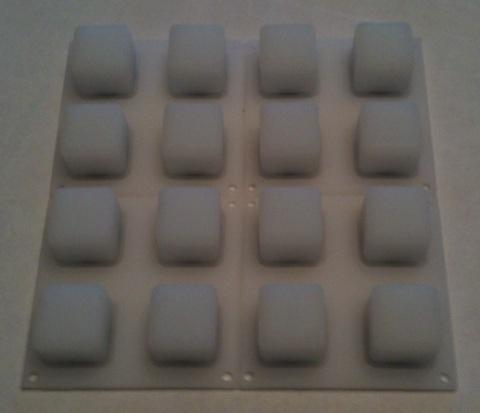 This is just a picture I took with my iPhone in my office, so you will have to excuse the fact that the colors are a little washed out. You will just have to take my word for it that this actually has a very pleasing translucent pearl-like coloring. I've played with tri-color LEDs before; the trick is to be able to mix and diffuse the light from the three RGB (red, green, blue) sub-elements. The material used in this button pad looks to be ideal for the job.
Another thing you will have to take my word for is the very pleasing tactile feel associated with pressing the buttons. The way in which each button is formed means that you feel a definite "click" when you press the button down. On the backside of the pad, we see that there is a circle of conducting material associated with each button: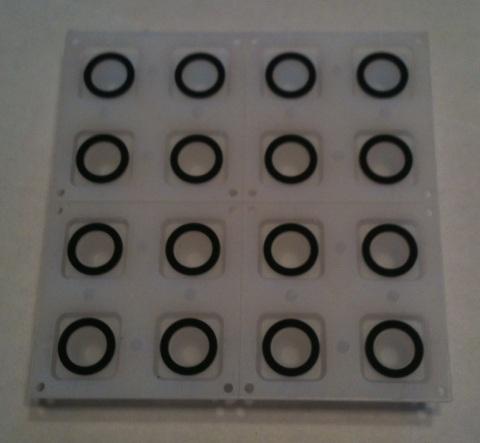 When you press a button, this conducting material can be used to make a connection on a printed circuit board mounted under the button pad.