In my previous columns on 3D ICs, we considered the way things used to be, along with the current state of play. (See: The World Before 3D ICs and The State of the Art in 3D IC Technologies.)
Everything we've discussed thus far might fall under the umbrella of "conventional technologies." They are simply evolutionary enhancements to -- and adaptations of -- proven and accepted silicon-based materials and techniques. Other materials, if they came into play, could significantly change the 3D IC landscape.
Take graphene, an allotrope of carbon. It has a structure of one-atom-thick planar sheets formed from carbon atoms packed densely in a honeycomb crystal lattice. In addition to being incredibly strong (measurements have shown a breaking strength 200 times higher than steel), this material is an excellent conductor of electricity. It also has fantastic thermal conductivity -- better than even nanotubes and diamond. Suppose we could lay graphene sheets down layer by layer, patterning each layer with the equivalent of transistors and separating adjacent layers with a few atoms of insulating material. The results could be mind-boggling.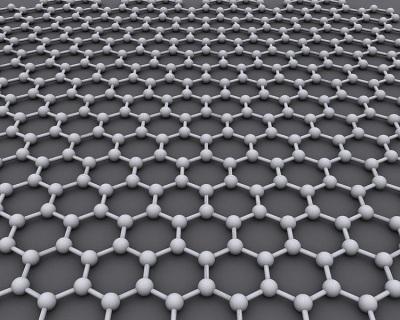 Of course, graphene won't be used in this way in the near future, unless something completely unexpected happens. Also, we should recognize the billions of dollars that have been invested in the silicon-based infrastructure. Fortunately, there are other options closer to home.
Monolithic 3D ICs
Here's a 30,000-foot description of a relatively new approach that seems very promising: the Monolithic 3D IC technology. All the following numbers are approximations and/or rounded values. They are intended only to provide a sense of scale.
We start with a regular wafer ~700μm (0.7mm) thick. The active/device layer (the doped region containing the transistors) is ~20nm thick -- 1/50th of 1μm, which is infinitesimal when compared to the thickness of the wafer as a whole.
We then add the metallization layers as usual. These layers may have different thicknesses, depending on what we want them to do (signal or power, for example). Between each pair of adjacent metal layers, we will need an isolation layer (silicon dioxide or a low-k dielectric layer). We end by growing a final layer of silicon dioxide and polishing the surface of the wafer to be as flat as possible. In fact, the wafer is polished multiple times as the metal/dielectric layer combos are added.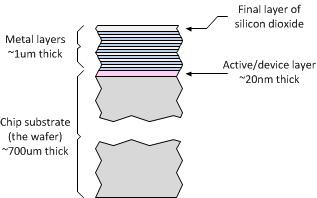 To provide something to visualize, and to round things furiously, let's say that we have eight or nine metal layers, and that, adding everything together, the stack of metal and insulating layers is ~1μm thick. This is where things start to get very interesting.