You can call me old-fashioned, if you like (actually, you can call me anything you like, so long as you manage to squeeze "outrageously handsome" in there somewhere), but I do enjoy learning about people -- what they like and what they donít like -- what they do for fun in their spare time, and so forth.
For example, I really enjoyed our recent slideshow in which we saw pictures of how we all used to look in our first jobs or while at college. (See: Slideshow: The Way We Was.)
I know, I know... now you are going to ask me "What happened to that promised blog showing pictures of different people's offices?" (See: Who Among Us Has the Strangest Office?.) I hang my head in shame. I have the pictures that folks sent me of their offices, and I did take a bunch of pictures of the pleasure dome (my own office), but then I moved from one bay to another and I decided that I'd rather show the pictures of my new abode (once I've unpacked all of the boxes).
But I digress... I donít know about you, but I usually have a few hobby projects on the go. The project that's at the forefront of my attention at the moment (also the one that's occupying the table in the breakfast area of our house) is a giant mosaic of Van Gogh's "Starry Night." A photo of the original picture (not my mosaic) is shown below: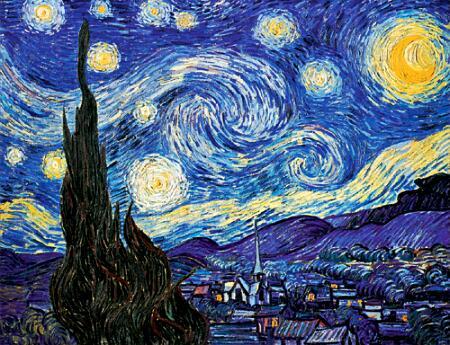 Actually, simply saying "mosaic" does not really convey a good impression of what I've been doing, which is to give my piece a three-dimensional look-and-feel. I'm doing this by creating the mountains on separate layers using 1/8"-thick sheets of pressed board. In addition to the four mountain layers, the big tree in the foreground is also composed of multiple layers. I'm just now at the stage where I'm starting to consider what to use for my mosaic tiles (glass, ceramic, something else).
I will be delighted to show you some pictures of this in a future column, if you are interested (you know me... all you have to do is ask), but this set me to wondering about what other members of All Programmable Planet are doing. For example, I know that Duane is working on his Robot Avatar project, and Ed is creating an electronic computer using only technology that was available in 1900 or earlier. But what about everyone else?
So what I would like would be for you to send me pictures and descriptions of any hobby projects you are currently working on or that you've created in the past (you can email me at max.maxfield@ubm.com). These projects can be electronic-based, or they can be nothing to do with electronics at all... whatever it is you do to relax and take your mind off work. Then I will create another slideshow showing what we all get up to in our spare time.