This is all jolly exciting. This week, the guys and gals at Xilinx (this site's sponsor) announced the fourth-generation secure architecture with Information Assurance and Anti-Tamper IP core support for defense-grade All Programmable 7 series FPGAs and Zynq-7000 All Programmable SoCs. However, this does prompt a question: What does "defense grade" actually mean?
The official announcement of the new devices was originally intended to make a big splash at MILCOM 2012, which was scheduled to be held in Orlando, Fla. Sad to say, Hurricane Sandy caused the organizers to cancel this event. I received a briefing before the release, of course, because I'm incredibly important (LOL). The presentation accompanying this briefing included the graphic shown below. The orange-ish boxes indicate defense-grade components, while the red-ish boxes indicate space-grade devices.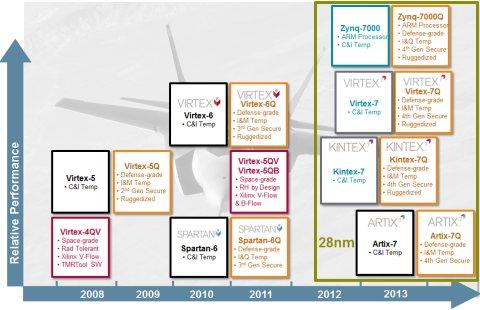 But what about the black boxes and the blue-ish boxes? Why don't we see anything that says "commercial grade," "automotive grade," or "industrial grade"? In hindsight (the only exact science), I should have kept my mouth shut. That would have made this column much shorter. But I had to ask questions, and now my poor old brain is reeling from what I've learned.
A week ago, if you would have asked me to name the various grades of programmable devices that are available, off the top of my head, I would probably have said, "commercial/consumer, industrial, automotive, defense, and space." The problem, as I've come to discover, is that different vendors categorize things in different ways. One vendor's idea of defense grade may not be the same as another vendor's.
Actually, let's take a small step backward. The first question we should be asking is what "grade" actually means. Strictly speaking, in the military world, this refers to something that meets specific specifications. However, in the lexicon of semiconductor vendors, the term typically refers to a part intended for a particular application area.
In the case of Xilinx, the best place to start is with operating temperature ranges, which it defines as follows. (Other vendors may use different ranges.)
C (commercial): 0 to 80°C
E (extended): 0 to 100°C
I (industrial): -40 to 100°C
Q ( ): -40 to 125°C
M (military): -55 to 125°C
In many ways, Q was an unfortunate choice of letter, in part because it has a specific meaning in automotive specification circles, which can lead to confusion, but there we are. Also, we don't have a word that goes with the Q option. Don't ask me why. (If you do, you will be sorry. Trust me on this if nothing else.)
There are all sorts of interesting nuggets of knowledge that go along with this. For example, "extended" is understood to mean extended beyond commercial. In addition to having a higher maximum temperature, some extended parts can be run at a core voltage of 0.9V, as opposed to the nominal 1V for their commercial cousins. Running at a lower core voltage is very useful for low-power applications. But we digress.