Do you recall my recent blog about a personal supercomputer for only $100? I explained how Andreas Olofsson and his Adapteva team launched a Kickstarter project to raise $750,000. As I reported in a followup column at EE Times, they were successful. By the time the Kickstarter project automatically shut down, the total pledge amount was $898,921 -- almost $150,000 more than the original target. I pledged $99, and I cannot wait to receive my Parallella personal supercomputer and start playing with it.
The reason this is of particular interest on All Programmable Planet is that, as this illustration shows, the Parallella is based on the combination of two main chips: a Zynq All Programmable SoC from Xilinx (this site's sponsor) and an Epiphany processor array from Adapteva.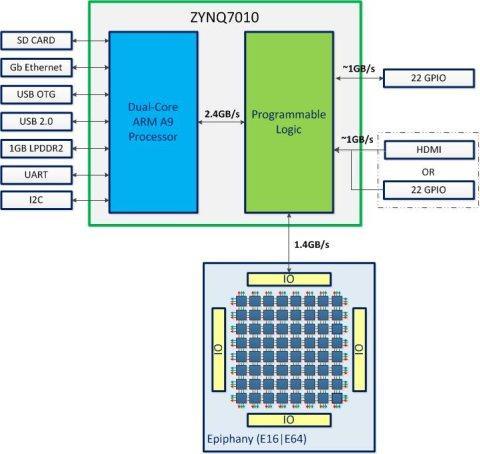 The interesting thing was that, almost immediately after I'd published my original blog on the Parallella, Bob Elkind commented, "Any real application requires gobs of memory bandwidth and gobs of storage bandwidth." Several other people have said the real limiting factor may be how fast you can transport data from external memory into the Zynq and back and forth between the Zynq and Epiphany devices.
So I was really interested in the latest APAX offering from Samplify Systems. APAX is a universal encoder/decoder IP core that can be deployed in ASIC and FPGA designs to dramatically reduce memory storage requirements and accelerate memory, input/output, and storage throughput.
In typical memory-bound applications, like high-performance computing (HPC) systems, only 10 percent of the time is spent actually performing computations. The other 90 percent of the time, the system twiddles its metaphorical thumbs waiting for operands to arrive. Using APAX can improve the situation. In fact, APAX cores can be deployed all over the place. Consider this illustration of a general-purpose computer system. The small boxes with triangles indicate somewhere APAX is applicable.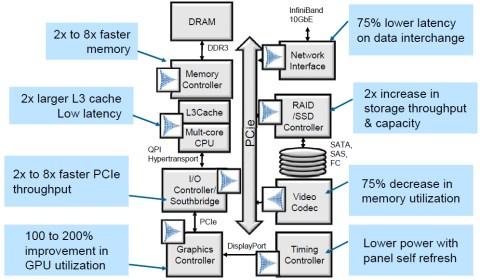 At this week's ARM TechCon 2012 conference in Santa Clara, Calif., the folks from Samplify demonstrated APAX running on a Zynq, as shown below. APAX comes equipped with a software driver that is written in ANSI C and runs under Linux.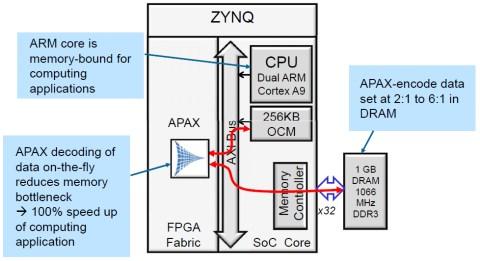 As soon as I heard about this while I was chatting with the folks from Samplify, a little light went on in my head, and I thought "This is ideal for the Parallella." In addition to speeding up data throughput between the Zynq and the external DRAM, APAX could be used to increase Zynq-Epiphany communications.
I love it when things come together this way. Do you think this technology could be used to address any memory bandwidth and storage bandwidth issues associated with the Parallella?
Related posts: