What? You've never seen a wireless mesh network based on Propeller Beanie hats before? Well, "Stick around kid and I'll show you a few things," as the old saying goes.
As usual, things are jolly exciting here in the pleasure dome (my office). If you were on our live online weekly chat earlier today, you will already be aware that I have some jolly exciting news -- if you weren't on the chat, then "for shame" is all I can say.
Actually, there are now so many "threads" to this story that it's difficult to know where to start. I suppose we could begin by noting that one of the many duties that falls on my shoulders as editor in chief of All Programmable Planet (APP) is to decide on our official headgear -- the idea being that members of APP will be able to easily spot each other in a crowd.
Thus it was that after much soul-searching, I opted for the Propeller Beanie as illustrated below, because I thought this would convey the right amount of gravitas on the members of our august body.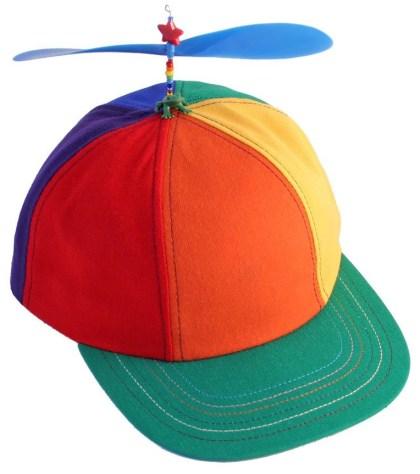 Another "thread" to this tale is that some time ago, I became aware of the existence of a society called the Ancient Order of Froth Blowers (click here to see my original blog). This was an organization that had a mission -- in addition to raising charitable contributions -- "To meet regularly in pubs or clubs to enjoy 'beer, beef, and baccy' " (where "pubs" means public houses or bars, and "baccy" means tobacco).
At its height, the club had more than 700,000 members around the world. Sad to relate, however, the original organization folded in 1931 with the passing of its founders. So I decided to form my own club called the Worshipful Ancient Order of Froth Blowers (WAOFB). In case you were wondering, I added "Worshipful" because I didn't want anyone to confuse my club with the original organization. Since this was my idea, I thought it only fair that I should henceforth be referred to as Supreme Commander-in-Chief, Froth Blowers Worldwide (which reminds me that I need to get some new business cards printed).
By some strange quirk of fate, I decided that the official headgear of the WAOFB should also be the Propeller Beanie because (a) I already had one in my office and (b) I couldn't think of anything better. So you can only imagine my surprise and delight when I received the following photo from one of the UK chapters of the WAOFB blowing the froth off a few cold ones whilst wearing their full club regalia: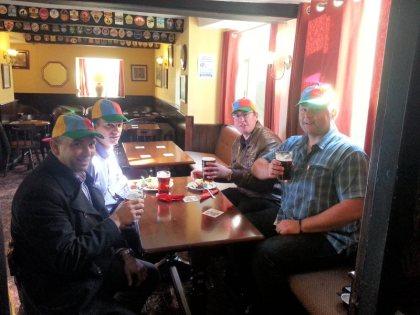 The thing was that these guys had gone above and beyond the call of duty by adding motors to their propellers (this explains the blurred appearance of the propellers in the image).I mentioned this in our APP online chat last week, thereby sparking a flood of ideas from the other participants. One suggestion was that we should use our APP hats to implement a wireless mesh network. The idea is that when another member is in close proximity, LEDs on the hat start flashing and your propeller starts spinning. The speed of the flashing LEDs and the spinning propeller could be a function of your proximity.
There was one suggestion that if enough members got together, their hats could take off and fly around in formation, but I think that might be taking things a tad too far.