Well, I think it's safe to say that things aren't slowing down in "Programmable Space" (where no one can hear you scream). I'm still trying to wrap my brain around the advances Xilinx made when moving to the 28nm technology node. This is where we saw the advent of All Programmable FPGAs, SoCs, and 3D ICs.
Just to remind ourselves, when we say "All Programmable FPGA," we're talking about a state-of-the art, high-capacity, high-performance device that boasts sophisticated programmable digital fabric combined with substantial amounts of on-chip RAM, DSP functions, high-speed interfaces, programmable analog fabric, and... the list goes on.
And when we say "All Programmable SoC," we're talking about the Zynq, which combines a full hard core implementation of a dual ARM Cortex-A9 microcontroller subsystem (running at up to 800MHz and including floating-point engines, on-chip cache, counters, timers, etc.), coupled with a wide range of hard core interface functions (SPI, I2C, CAN, etc.), and a hard core dynamic memory controller, all augmented with a large quantity of traditional programmable fabric and a substantial number of general-purpose input/output (GPIO) pins.
And when we say "All Programmable 3D IC," we're talking about homogeneous 3D devices like the Virtex-7 2000T, which involves four FPGA dice attached to a silicon interposer with ~10,000 ultra-high-speed connections between adjacent dice, and heterogeneous 3D components like the Virtex-7 H580T, which comprises 2X FPGA dice and 1X 8-channel 28Gbps transceiver die in the same package (the forthcoming Virtex-7 H870T will boast 3X FPGA dice and 2X 8-channel 28Gbps transceiver dice in the same package).
Well, the folks at Xilinx have just announced their roadmap toward the 20nm technology node as illustrated in the image below. And, as we see, these devices will be followed in the future by new generations at the 14-16nm FinFET node and then the 10nm process node.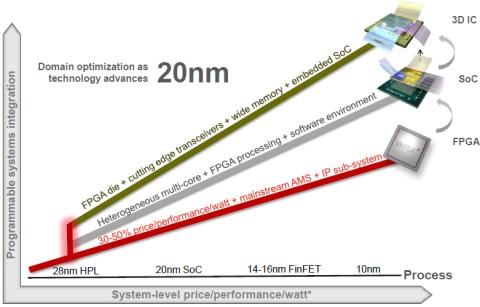 I don't know about you, but my mind is reeling. I can't even imagine what we will be looking at below 20nm, so let's stick with what we know will be coming.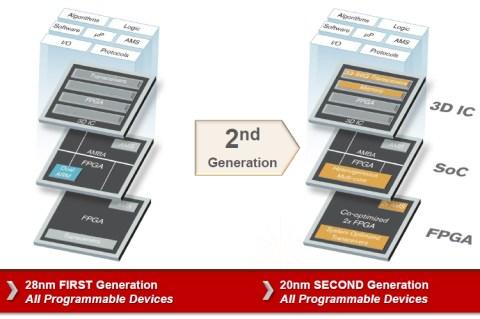 Let's start with the 20nm 8 series All Programmable FPGAs, which will provide 2x the performance, half the power, and 1.5x to 2x the integration capabilities over the current generation.