Well, I have some jolly exciting news to report. As you may recall, in a previous blog I talked about Xilinx's mega-cool All Programmable 3D FPGA IC technology. In particular, I discussed the Virtex-7 2000T, which involves four honking big FPGA dice attached to a silicon interposer that provides ~10,000 ultra-high-speed connections between adjacent dice.
The Virtex-7 2000T, which started shipping in October 2011, is currently the world's highest-capacity programmable logic device -- it contains 6.8 billion transistors, providing designers with access to 2 million logic cells, which are equivalent to millions of ASIC gates. This makes these devices ideal for system integration, ASIC replacement, and ASIC prototyping and emulation.
It is the ASIC prototyping application I want to talk about here, because I was just chatting to Mick Posner, director of product marketing at Synopsys. A week or so ago, Synopsys introduced the latest-and-greatest version of its HAPS prototyping solution -- the HAPS-70 series -- and these amazing systems are powered by Virtex-7 2000T All Programmable 3D ICs.
The HAPS-70 series is incredibly modular. Each system comprises one or more boards, where each board carries one Virtex-7 2000T. As illustrated by the following image, the HAPS-70 S12 boasts one board and provides the equivalent of 12 million ASIC gates (traditionally 2-input NAND gates); the HAPS-70 S24 boasts two boards providing 24 million equivalent gates; the HAPS-70 S48 boasts four boards providing 48 million equivalent gates; and three HAPS-70 S48 units can be combined to create a HAPS-70 S144 providing 144 million equivalent gates.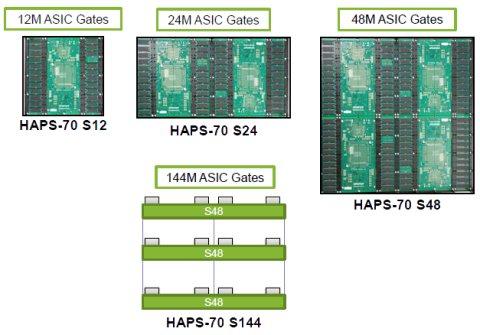 The following image shows a HAPS-70 S48 in its enclosure, which -- I believe -- is unofficially known as "the cage." In this image you can see rows of connectors on the top side of the four boards (we will return to discuss these connectors in a moment). The Virtex-7 2000T All Programmable 3D ICs are mounted on the underside of the boards (click here to see a larger, more detailed version of this image):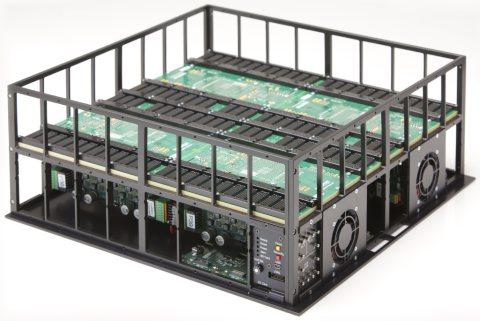 "But what are all the connectors for?" I asked Mick. "And is there any reason HAPS is based on Xilinx All Programmable 3D ICs other than their mind-boggling capacity?" (Actually, I probably didn't phrase things quite this way, but you get the gist.) I certainly wasn't prepared for Mick's answer...