OMG! What a blast from the past! My chum Bob Zeidman, president of Zeidman Consulting, and an expert on high-technology hardware and software IP, just sent me a link to the most amazing website.
This interactive site gives a feel for what Google would have looked like in the 1960s (click here to visit the site). For older members of our All Programmable Planet fraternity (like myself), this really takes one back. For our younger colleagues who have never seen a punched card or fan-fold computer paper and printers -- and who have never had to wait for data retrieval from a tape drive -- this will be a real eye-opener. (As an aside, you might also wish to check out a blog I wrote some time ago on Fan-Fold Paper and ASCII Art.)
But we digress... When you first arrive at the "Google in the 1960s" website, you are presented with a punched card display as illustrated below (click here to see a larger, more detailed version of this image). This is the way I used to capture my programs when I was at university -- pressing the keys on a Teletype Terminal, which punched corresponding holes into the card.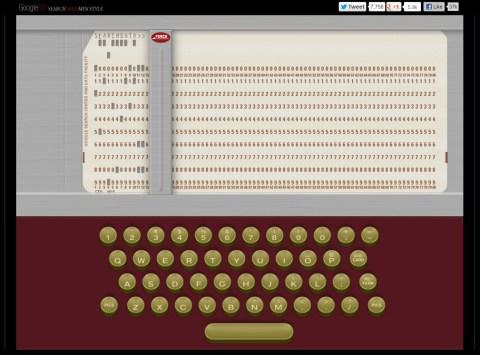 At the very top of the card, the Teletype machine also printed the text characters associated with the columns. If you look carefully, you'll see that the card already carries the holes associated with a "SEARCHDATA>>" command. The idea is that we are going to perform a search using a 1960s equivalent of Google, so we use our mouse to click on the keys for whatever we wish to search for.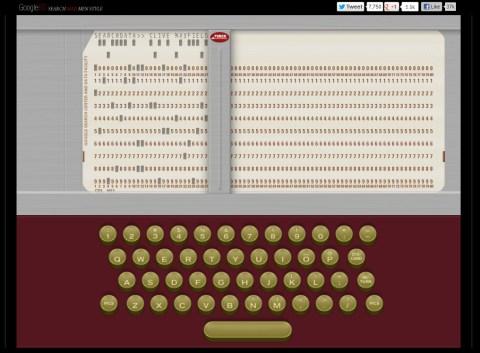 Being a tad narcissistic, I entered the string "CLIVE MAXFIELD" as illustrated above (click here to see a larger, more detailed version of this image); of course you can search for whatever you want. When you are entering your search string, you can observe the holes being punched in the card and -- as I previously mentioned -- the text equivalent being printed at the top of the card.