Ever since I first ran across them, I've always had a soft spot for the little FPGA-USB modules from Opal Kelly. These are the modules my fellow APP Blogger Tom Burk is playing with in his current mini-series of blogs. (See: 'Howdy, Folks,' Says New APP Blogger Tom Burke, Leveraging COTS FPGAs for Test Applications, Using Opal Kelly's XEM3005 FPGA/USB Module, Using Opal Kelly's FrontPanel SDK/API, and Using Schematics to Capture a 'Hello World' App.)
On the off-chance you haven't run across these before, these are small modules that offer a combination of FPGA and USB functionality. They range from the 1,200,000-gate Xilinx Spartan-3E FPGA-based XEM3005 that supports USB 2.0 (this is the one Tom is playing with), to high-end versions like the Xilinx Spartan-6 FPGA-based XEM6310 that provides the high data transfer rates of USB 3.0.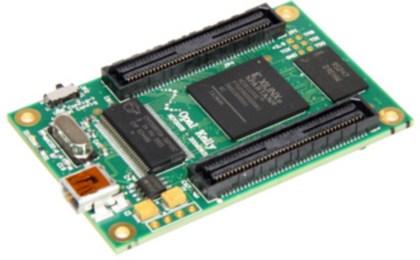 Note the long black connectors on either side of the board, in particular -- these are key to what the board does and what it's for. Suppose you are creating a super-dooper machine vision system, for example. You've designed the main board with the image sensor and supporting electronics, and now you wish to transport the video data to a PC via USB. The thing is that USB is easy-peasy from the end user's point of view, but designing it into your system is not as trivial as one might hope.
One solution is to drop in an Opal Kelly FPGA-USB module. In addition to providing bidirectional communication to the PC, you can also use the FPGA to implement local digital signal processing (DSP) and decision-making functionality.
I actually wrote an article that described a really good example of this way back in the mists of time. This was for Chip Design Magazine, and it described how the USPS (United States Postal Service) was using Opal Kelly's FPGA-USB modules in a real-time process control application (click here to see that article).
The reason I'm waffling on about this here is that I recently heard about another interesting deployment of Opal Kelly's technology. A "hot" trend in neuroscience is the emerging field of optogenetics. This advanced technique gives researchers unprecedented control and allows them to specifically activate or inhibit subgroups of neurons within the brain. Well, the folks at a company called Plexon have developed something they call an Optogenetic Controller, which comprises two custom boards created by the Plexon team and an Opal Kelly XEM6001 module (click here to peruse and ponder a Case Study on this little scamp).
It's funny how little coincidences occasionally raise their little heads. For example, we have Opal Kelly's modules being used in a neuroscience-related product, I'm currently reading a neuroscience-related book, and I recently discovered that Mayim Bialik (the actress who plays Amy Farrah Fowler on The Big Bang Theory) holds a PhD in neuroscience. Who would have thunk?
Of particular interest is that Mayim is going to be one of the featured speakers at the forthcoming Design West Conference and Exhibition, which will occur April 22 through April 25, 2013. Of course, yours truly is going to be speaking there also (see Danger Will Robinson! How Radiation Can Affect Your Embedded Systems). The really cool thing is that since I'm the chair of the "Processors and Programmable Devices" track, I have an "in" with the conference organizers. The bottom line is that I'm hoping to arrange a "back-stage pass" so that I can meet Mayim and maybe even get a picture of us together (but I'm not giving her my autograph, no matter how much she pleads).
Related posts: