Editor's Note: In the previous installment of this mini-series, the daring Duane decided to leave his comfort zone, stop using the command-line mode, and start using the supplied IDE (integrated development environment). (See: Discovering FPGAs: Bringing Up the IDE.)
In this installment, still using the IDE, our intrepid champion walks us through the process of creating the .BIT configuration file. So now, let's hand things back over to Duane...
In my previous blog, we completed the most basic framework of our configuration; now, we're picking up where we left off. My objective in this column is simply to use the IDE to do the same thing we did with our command-line batch files in prior blogs. Before introducing too many variables, I need to be confident that I can use the IDE from start to finish, ending up with my FPGA configured and working.
Learning Verilog (or VHDL) will have to come after this. Based on this objective, I'm not going to go through all of the Verilog code. I'm just going to delete everything in the "ledflash_ISE_ver.v" file and copy and paste the code from our old "ledflash.v" file into here.
So, click anywhere in the Verilog code window, and then type Ctrl-A to select all of the text and -- yes -- delete it! Delete it all! Next, use your favorite text editor to open the "ledflash.v" file we played with in earlier blogs, select all of the text, copy this text, and then paste it into the "ledflash_ISE_ver" window in the ISE. You should now have "endmodule" as line number 56 in the file, as shown below. (Click here to see a larger, more detailed version of this image.)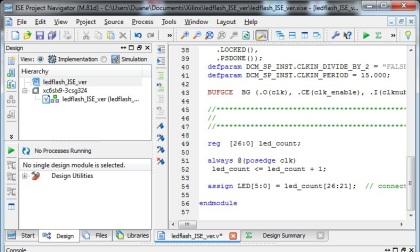 We're well on our way to getting back to exactly where we started, so feel free to take a break and have a soda, coffee, beer, or maybe just a glass of water. But first, use your text editor to open up the other file from our earlier discussions -- the "ledflash.ucf" file. Chapter 5 of the tutorial discusses what we'll be doing next. Again, we're not going to go through all of the tutorial steps here; just the ones needed to get our simple "ledflash" code into the FPGA.
In my last blog, we created a new ".v" source file -- this is the one we just filled with our old code. Today, we're going to create the new .UCF (user constraints file). Open the Project menu in the ISE and select "New Source," which opens up the "New Source Wizard" as shown below. (Click here to see a larger, more detailed version of this image.)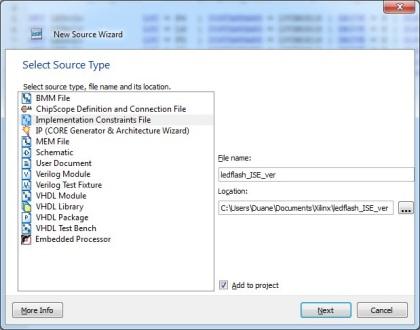 In the wizard, select "Implementation Constraints File," name it "ledflash_ISE_ver.ucf," and click "Next" to finish the process. Again, we're just trying to get a successful compile / configure here, so I suggest that you do as I am doing, which is to simply copy and paste the contents of our old "ledflash.ucf" file into this new "ledflash_ISE_ver.ucf" file as shown below. (Click here to see a larger, more detailed version of this image.)