The biggest buzzphrase in the DIY community right now is "3D printing." With the advent and sudden popularity of devices like the MakerBot and the RepRap, there is a lot of chatter about the exciting future of low-cost home fabrication.
The unofficial goal (or final utopia, if you will) of this movement is the ability to fabricate anything and everything quickly and cheaply in the comfort of your own garage. One would obtain open-source design files, put raw materials into a machine, and print a thing. This goal is slowly being realized. Companies and individuals are designing open-source, low-cost, scaled down versions of machinery traditionally found on factory floors: 3D printers, pick-and-place machines, CNC machines, PCB etchers, vacuum molders, etc. However, as versatile and accessible as home fabrication has become, there remains an enormous hurdle: DIY fabrication of semiconductor chips.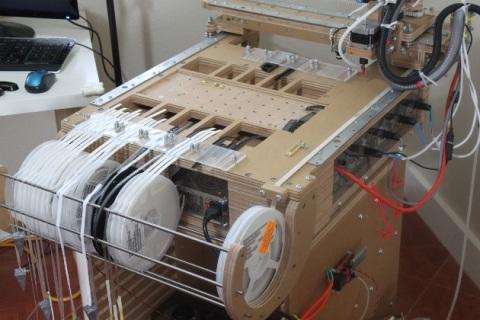 FPGAs can help address this problem for the do-it-yourselfer. One can design a piece of hardware using free HDL tools, download it into an FPGA, and use or share this custom design. This is a solution for hardware prototyping, but it's still not fabrication. If I want to fabricate an actual chip, I'm going to need some serious capital. I will likely need tools from companies like Cadence or Synopsys (which are costly) to create a design, which I will then send to a fabrication house (which is incredibly costly), only to end up with prototype devices that are likely going to need a revision before they are sold through a distributor, which will increase the price and take a percentage.
With that kind of cost, chip fabrication is isolated to large companies with the ability to take a risk on a design. It is not a business for your average "Joe in a garage." However, there is a glint of hope on the horizon. Several organizations are attempting to develop transistor printing machines. Just like 3D printers, these machines could be scaled down and find their way into garages everywhere. Once that happens, one would be able to create a design in HDL and print it immediately using a device no bigger than a desktop CNC machine.
This is not to say FPGAs will fall by the wayside as development tools. Quite the contrary. They will become vital in any do-it-yourselfer's toolbox and skill set. Instead of buying a chip from another company, one would be able to download a design from a group like OpenCores, test it on an FPGA, and print it at home. The design-build-test cycle would be as follows:
Design hardware using HDL
Test the design on an FPGA
Print the design at home
Test the prototype
This design cycle would reduce production time from months to hours, and it would reduce costs by orders of magnitude -- the largest expense being the overhead price of the machine that prints the circuit. This will change the entire economy of electronics production and speed up innovation like never before.