The term "white space" refers to portions of the licensed radio spectrum that licensees do not use all of the time or in all geographical locations. As of May 3, 2012, the National Association of Broadcasters (NAB) dropped its objection to white space communications. In an article in the National Journal, Federal Communications Commission Chairman Julius Genachowski was reported as saying that he is personally lobbying the military to help free more airwaves for private companies. And he has made it one of his signature goals to "unleash" more spectrum for mobile broadband.
As reported in an article in Technology Review, published by MIT, much of this activity was associated with Microsoft successfully demonstrating a white space communication system in February that caused no interference and achieved one gigabit per second (1Gbit/s) throughput.
With white space communications, in cities where there are unused UHF TV channels (for example, channels 21-51), this portion of the spectrum can be reused, in this case for a new WiFi upgrade. FPGAs have some unique characteristics -- such as reconfiguration -- that offer a way to solve the problem of needing to search for white space and then send data.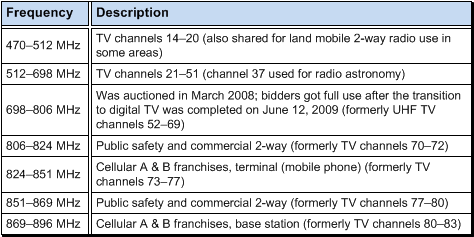 In the Microsoft system, sections of white space are used as individual channels. These channels are bundled together to get the full data rate. The ability of FPGAs to perform processing in parallel makes them particularly attractive for this type of product. Multiple channels can be dynamically loaded into the FPGA's logic based on current conditions. The inclusion of Ethernet and ARM processors can allow one to implement a DSL or cable modem with white space communication capabilities.
Depending on location, transceiver and user settings, and dynamic conditions, the host processor will load one or more 802.11a/b/g/n, WiMax, or super-WiFi channels into the FPGA. Data could be duplicated on different bundles to give greater range or to make up for intermittent interference -- to make up for errors, for example.
There is much to be considered given the greater bandwidths available. It will be most interesting to see how this all comes together to make a new super-WiFi. What do you think about the idea of having faster, longer-range, interference-free WiFi?