In an earlier column (the one before my Game of Life blog), I was looking at building the core of the PicoBlaze, but had not really done much else. So it's time to fix that and get a light-emitting diode (LED) we shall call Blinky up and running. Now, controlling a light-emitting diode (LED) might not sound like a big deal, so why is a blinking LED so important?
Getting new hardware or software up and running is best achieved by taking small steps. I once heard a software engineer say that you can write a program in a day and then spend weeks debugging it. The problem is exacerbated if you trying to bring up both the hardware and the software at the same time. If something doesn't work, is it the hardware that's letting you down, or is it the software that's at fault?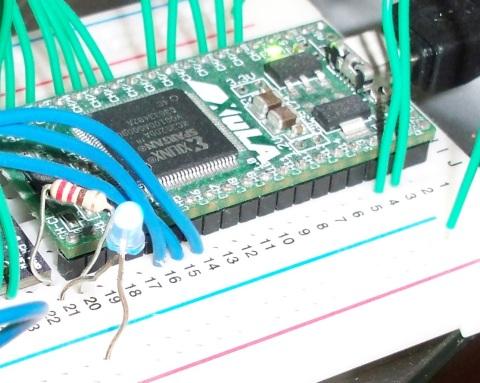 The first step is to make sure that the target hardware is really working, but how can you tell you have managed to get something working for the first time? The answer is Blinky the flashing LED, which I believe is the most powerful debug tool you will ever own (I'll let you read my blog, thereby saving you from being regaled by my passion for this topic).
The point is that getting an LED to blink means a lot, because it provides a way to demonstrate that you have achieved some goal. Over the last few days, this has meant proving that (on the hardware side) I could add the required support logic in the form of an output port and its control circuitry. I've also had to assemble a PicoBlaze program, synthesize everything, and -- ultimately -- get Blinky up and running.