In my most recent column, we discussed the third-party IP core vendor's experience (or lack thereof). As usual, an interesting discussion ensued, and this provided a good opportunity to share our experiences. Let's proceed to the next question in our 10 Commandments.
No. 5: Can you show me your portfolio?
As you will doubtless (or, should I say, hopefully) recall from my earlier blogs, my colleagues and I have tried to share our experiences with third-party IP cores. Thanks to your comments and opinions, a few interesting motifs have appeared. One was posted by Myplanet: "We used to collect user cases, references, and experience through the IP provider." I think this provides a good basis for our discussions in this column.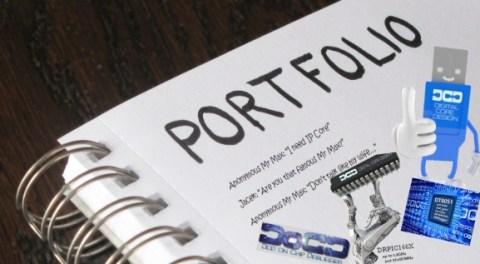 In today's digital world, customers expect new products that provide more functionality and better performance at a lower price than their predecessors. We all can agree that the two main factors in every project are the design complexity and the cost. Even though design complexity is always increasing, we need to reduce both development costs and time to market.
The reuse of modules or IP blocks seems to be the most sustainable solution that meets these requirements. Building everything from scratch is a long and risky road to walk alone. You might say, "I can do everything on my own." Of course, you can, but will you be able to do this in a cost-effective and timely manner while adding any required extras to the final design? Reusing modules and functionalities, in the form of intellectual property, is very often the most reliable and cost-effective way to go.
Moreover, in many cases, licensing external IP cores can bring numerous bonuses for the designer and the company. When you go for a microcontroller like the 8051 (yes, I do love eight-bit machines), you can typically obtain a bunch of peripherals for free or almost free. One of our IP cores, the DP8051 (please forgive my product placement here) can be augmented with a USB combo pack (Audio, HID, or MS). The USB trio is not free, but when the system's total cost is taken into account, it is much lower than the cost of a standalone IP core.
In addition, a bundle like this saves designers huge amounts of time, because they don't need to struggle putting all the pieces of the puzzle together. When a company purchases a license for an IP core, it should receive everything required to design, test, and utilize that core in its own product.