When these problems began to surface, board designs typically combined processors, ASICs, FPGAs, and memory. In many cases, the same voltage level was used for multiple devices, but each device had different ramp rates or sequencing requirements. As a result of these conflicting requirements, you could easily have eight or more separate power rails.
As reliability became more important, new board-level features -- like hot swap, redundant power supplies, reset sequencing, and voltage and current monitoring -- began to show up. You could scatter several specialized components across the board to implement these features, but the complexity of this type of design exploded.
Luckily, programmable logic had been used in the past to sweep up bunches of small-scale digital components, so the possibility of doing something similar for power control seemed promising. If some simple analog components (analog-to-digital converters, digital-to-analog converters, and threshold comparators, for example) could be combined with programmable logic, you could consolidate a bunch of separate devices and make a single device the point of control. This would dramatically simplify the design of a multiple-rail, multiple-feature power supply controller.
Lattice took the challenge of solving these customer problems. It now has two families of programmable devices for power control: the Power Manager II family and the Platform Manager family. These devices can support many of the features needed in a modern power supply control design. The illustration below shows many of the main features that can be incorporated in a single programmable power control device.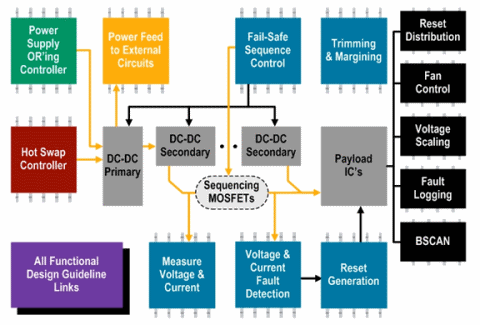 All these features (and many more) are described in detail in Shyam's book, which is well worth a casual thumbing through for anyone and a more diligent, detailed read for those interested in power subsystem design. For our purposes, it is sufficient to see the explosive growth in the features needed in multiple power supply designs. We have gone from a simple 5V single-rail supply to a 10-rail power control monster. Luckily, programmable device-based techniques can help us pull all these requirements together in a single device.
Do you have any experience in power supply design? Have you had to adjust your designs to keep up with the growth in power supply design complexity? Maybe you have been doing designs for only a few years and, as far as you are concerned, power schemes have just always been that way. Post your comments and questions here, and don't forget to tune in next week, when we will consider today's challenges for FPGAs used for power control.