A function similar to margining, called trimming, is also used to improve system reliability. Modern processors and FPGAs can require very precise core voltages, often more accurate than the tolerances provided by commodity low-dropout regulators or DC-DC power supplies. IR voltage drops along the PCB traces or ground shifts also contribute to voltage errors, and also vary as a function of instantaneous current demand.
This combination of errors can make it exceedingly difficult to implement a power distribution system without a feedback mechanism to continually adjust voltage levels. This is where trimming comes in. Most point of load (PoL) power supply modules used in conjunction with processors and FPGAs have a trim capability that allows the output voltage to be dynamically adjusted. A programmable power control device (as illustrated in the figure below) can monitor the voltage output from the PoL module via an integrated analog-to-digital converter (ADC).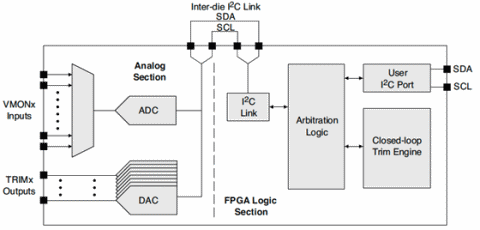 If the output level needs to be adjusted, the integrated digital-to-analog converter (DAC) can be used to modify trim input on the PoL module to change the output voltage. A common serial interface, like the Inter IC (I2C) link can be used to control the trimming process. This precise closed-loop control sequence can keep critical voltages within very fine tolerance to improve reliability without requiring expensive PoL modules or DC-DC supplies.
Another feature seeing rapid acceptance in modern power supply designs is fault logging. The programmable power device can use several of the monitor inputs to continually measure system voltages. If these voltages begin to wander toward specification limits, the controller can issue warnings or begin shutdown procedures to help insure devices are not damaged.
In many cases, the precise warnings or faults are logged by storing descriptors in an E2 memory. This memory serves as a "black box" to enhance serviceability or remote diagnostics. A full reference design for a fault logging sub-system is available from Lattice and is illustrated in the figure below.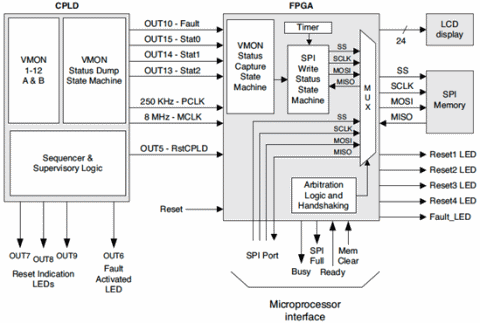 Don't forget to check out Shyam's book, Power 2 You: A Guide to Power Supply Management and Control, which is available in English, Chinese, and Japanese! This book provides a detailed design description of all the examples used in today's post along with a host of other key power control features.
What challenges do you have in designing your power supply today? Is reliability a growing concern for your designs? Post your comments and questions here. And don't forget to tune in next week when we move on to consider future trends with regard to programmable devices used for power control applications.