An interesting mini-discussion popped up in yesterday's live online chat on All Programmable Planet regarding electronic bagpipes and whether anyone had actually encountered them. (See: June 28, 2012 Live Chat: All Sorts of Stuff!)
In particular, our illustrious editor in chief, Max Maxfield ("may he reign forever"), mentioned he had discovered that it was possible to purchase electronic bagpipes that you can listen to through a set of headphones. The example he gave, as shown in the image below, came from a company called Fagerstrom in Sweden.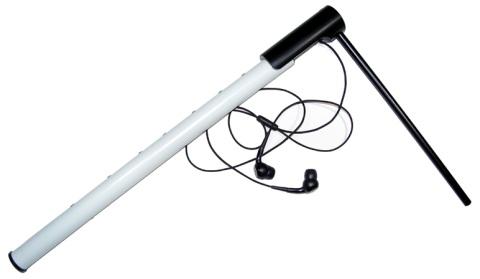 Being the honest and forthright person that I am, I immediately admitted that I actually have played the Highland version (there are hundreds of variations of bagpipes) and have actually put my fingers on such a device (once again, there are several adaptations and implementations).
For the sake of full disclosure, I should note that I have not played the pipes with any regularity for many years. If pressed, I use the excuse that the definition of a Scottish gentleman is someone who can play the pipes... but chooses not to. In reality, however, I really suck at it.
Editor's note: Lou, with regard to your last comment above, I think I know what your problem is -- you should be blowing, not sucking!
Some electronic bagpipes are very rudimentary and sound very little like true Highland pipes. At the other end of the spectrum, some implementations sound very close to the real thing -- close enough indeed to be used by well-known bands such as KoRn.
There are a number of advantages to an electronic version of the bagpipes. First, you can put in your earphones and be the only one who can hear what you are doing. This is very important, because there is no way to play the traditional pipes and not be heard. If you are a bad piper, this means you can practice without losing friends, and maybe even get better. Second, pipes must be played regularly or they dry out and crack. Decent pipes, like any instrument, are expensive, so you want to keep them in good working order. With the electronic versions, which generally cost less than their air-powered forerunners, you can work your way up to the real thing.
The downside to all this is that there are inherent flaws in the electronic pipes that raise interesting technical problems. Many of the devices produce a clipping sound at the end of each note, which can be annoying to listeners (those who are not already annoyed by the sound). Also, on the whole (no pun intended), electronic pipes lack the ability to replicate the techniques know as "half holes" and "slides." When you place your finger on the pad of an electronic implementation, you get that note and nothing more.
The pipe chanter has seven holes in front and one thumb hole, which makes it possible to only produce nine distinct notes, unless the piper is competent enough to employ more sophisticated techniques that can produce half and quarter steps, glissandos, grace notes, and pretty much everything that separates a rank amateur from a real musician. All of this makes electronic pipes of interest only to the beginner, but not to a self-respecting piper.
So this is the challenge I place before you. Would it be possible to create an FPGA-based implementation of the Great Highland Bagpipes that has all the nuances of the real thing?