I'm not the right person to ask "Which FPGA board should I buy?" I've got six, and two more are winging their way in the mail to me as I write these words. All of them are really good boards, and one will always be better-suited to any given project than the others.
Perhaps a better question would be: "If you were stuck on a desert island with only one FPGA board with which to pass the time, which FPGA board would you want to have with you?" In fact, I have yet to find the one I would choose -- a Digilent Nexys3 with an associated VmodBB breadboard would be pretty close, but I would want HDMI too, and the Spartan 6 LX16 FPGA on this board is quite small in the scheme of things.
The problem is that every board has something different to offer, and I'm always looking for new things to try out. So while I'm waiting for my latest FPGA development boards to arrive, the following is a brief rundown of my current collection of boards.
Click on the photo below to see a slideshow of these boards.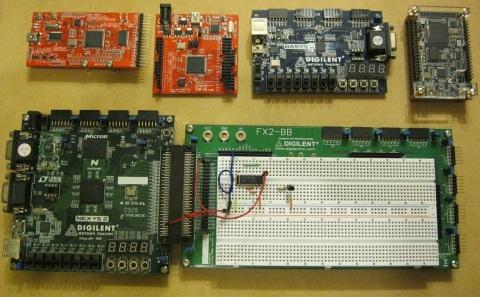 Open Bench Logic Sniffer: More of an appliance than an FPGA development board, this FPGA-based logic analyzer makes a great board to hijack for a small FPGA project that requires 5V inputs. Based on the Papilio design, the Open Bench Logic Sniffer uses a Spartan 3E-250 FPGA and has space for two 8-bit Papilio wings. At US $50, it is pretty good value for money when used as either a logic analyzer or a stand-alone FPGA board.
Papilio One: This no-frills FPGA board comes equipped with either a Spartan 3E-250 or -500 FPGA, power supplies, configuration flash, and a USB interface. It is designed to be expanded by adding up to six 8-bit or three 16-bit daughter boards and is ideally suited to the electronics hobbyist. One nice feature is that all of the expansion connectors are supplied with 5V, 3.3V, and 2.5V power, allowing a wide range of devices to be added. The absence of any other on-board connectors other than the USB host interface makes it perfect for embedding into custom builds.
All programming and host communication is over USB interface. JTAG is presented on the PCB, but no external JTAG adapter is required to use the board. I've also got a few "wing" add-ons that convert this board into a full FPGA development board with switches, LEDs, VGA ports, and other plugs and sockets. The ability to augment the functionality of the main board in this way provides a flexible solution that adds a lot of value. I like this board very much, and -- in fact -- I have just taken advantage of the All Programmable Planet special offer to order an additional board. (I won't be adding the headers to this new board, thereby making it much easier to slip into my laptop bag.)
As well as being used as an FPGA development board, software and firmware are available to make the board act much like an Arduino microcontroller prototyping platform -- a customized version of the Arduino GUI is available, which merges the AVR binary with a bit-file containing the AVR8 core, and then reprograms the FPGA or flash.
Not shown in the main photo is my Papilio Plus prototype, which is the same form-factor as the Papilio One, but with a Spartan 6LX9 FPGA and 512KB of SRAM (not quite enough to display a 1024 x 768 frame buffer). This is the one I used for my DSP48 based Mandelbrot Fractal viewer that made Hackaday.com, as discussed in Chris's blog. I'm now using this board to run games from FPGAarcade.com as a screensaver for my PC at work.