A good friend of mine just finished a class in VHDL. Hopefully, he'll get to use it soon. The reason I mention this here is that he brought me back an anecdote. The instructor (allegedly) explained that, among US HDL users, there is a very clean break that coincides with the Mississippi River. Those west of the river use Verilog, while those east of it use VHDL. Except for little islands here and there, the split is supposed to be pretty clean. I don't know if that's true, but it's certainly interesting.
Have I mentioned that I'm lazy? If not, now's a good time for you to figure it out.
After my previous blog, we now have a hardware designer's Hello World implementation working on our board. There are some additional things we can do, but we'll need to play with some more I/Os real soon. This would seem to be the point to install some connectors on our breakout boards.
Go to your favorite vendor, and buy some 100mil pitch connectors. You can get them pre-sized, or you can purchase the kind you can break off to length. Another alternative (probably easier) is to go to Opal Kelly's page, where pre-sized connectors are available for relatively reasonable prices. (Look at the bottom of the Products Page for the Accessories category.)
I noticed that the standard square connectors will barely fit in the mounting holes. I actually had to press them in. I went ahead and soldered them after the fact, but it probably wasn't necessary. Also, I dropped in pins instead of female connectors, but you might not want to do that; it's a bad design practice. I just used what I had in my scrounge drawers. (Now you see what I mean about being lazy.) It would be nice just to plug a wire into the female connector, but I'm left with having to make pins. Be forewarned. I wired up to an old protoboard that's been lying around probably since around 1986.
As a fun thing to do in the meantime, I put together a new version of my Hello World implementation using the schematic editor. Basically, this comprises a series of clock dividers feeding a ring counter. The clock is gated using the mom switch (my vernacular for a momentary switch). If you are a newbie, you might want to see if you can figure out how to do this yourself. One of the hardest parts for me was figuring out how to initialize the registers at startup. Alternatively, you can download a compressed ZIP file containing my schematics and other files.
Here's a video of my new implementation.
Now take a look at the following picture. I'm sure I'm not the only one with a desk full of old parts, but how many of you can say yours looks this bad? And this is after I tidied up. I definitely need more space to play with.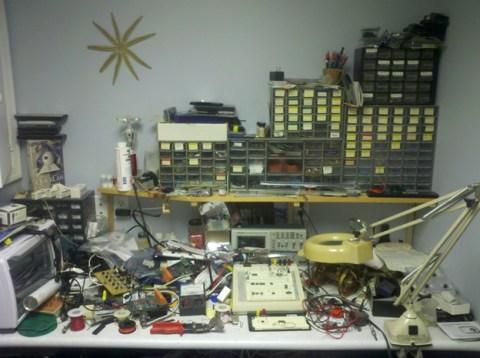 Finally, a real question for the experts: Is there some way for us oldster newbies -- older engineers who are new to the programmable logic world and still like to capture designs using schematics -- to see the HDL generated by our schematics? This seems like a good resource for learning. What do you think? Is that worthwhile?
Related posts: