After reading Max's recent blog What Do You Know About PCBs?, I felt strangely compelled to email him and offer my experience for All Programmable Planet (APP). I am 30 years old and live in Parksville, British Columbia with my partner Marieke and our two dogs.
Editor's Note: One thing I love about the folks here at All Programmable Planet is that we are multidimensional. By this, I don't mean we physically occupy three dimensions in space and one in time (although I think it's safe to assume that this is the case for the majority of us), but that we have interests outside of electronics and technology. When he is not slaving away at his workstation, for example, Adam enjoys helping his partner Marieke design and decorate bespoke cakes for their small business, Coastal Cake Company, in Parksville, British Columbia, Canada.
Since 2007, I have been designing PCBs with Altium Designer. When I first started, the company I work with was using a PCB design from the early 90s with all through-hole components. A lot has changed since then, and we are now starting to replace my original board designs with FPGAs, which is what lead me to All Programmable Planet in the first place. Through this blog, I would like to offer my experience with PCB design and manufacturing and supply chain management in general, and with Altium Designer in particular.
I thought the best way for readers to get to know me (and hopefully gain some PCB design insight) is with a tour of the tools that I use every day. I am 6'5" tall, which makes adjustable desks essential. The last desk I used was a hand-me-down from IKEA. It was not large enough to hold the four screens for my workstation, so I threw away everything but the legs and built a custom ¾" plywood desktop sitting on a 3" laminated beam. It also has an 8" cable management tray to keep things neat and tidy, as seen below: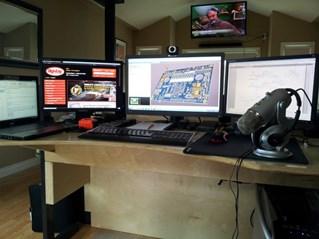 My workstation features an Intel Core i5 CPU with 8GB of RAM and two Radeon HD 6870s. Although I do a little gaming, my graphic card overload is due to an early 2012 fascination with Bitcoin mining; the cards have since paid for themselves. Bitcoin mining is a great example of using embedded technologies to perform complex cryptographic functions that would overwhelm central processors.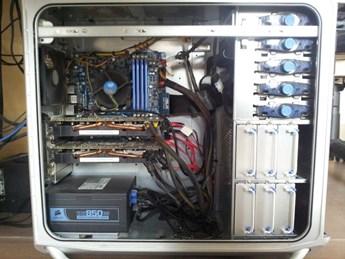 I use a wide range of software. For me the most important tool for electronics design is Altium Designer 13. Freeware tools are available that can reach the same tolerance levels for layout; however, Altium's strength is in the ability to handle complex workflows. Being able to work on schematic capture, firmware, and PCB design from one tool simplifies data management and speeds up the design process.
Adobe Creative Cloud is one of my core resources. Although I primarily use the Adobe Creative Suite 6 tools for web development tasks, I find Acrobat X Pro to be essential in preparing design documents for release. When a PCB design has many layers spread across multiple sheets, the resulting PDF can be a very large file. Acrobat X Pro is able to compress the PDF with no loss of fidelity, reducing file sizes from 10MB to 2MB. Importing company logos and graphics into PCB designs can also be difficult and is simplified using Photoshop. PCB Logo creation is something I would like to cover in a future post.
I think it would be great to start building an All Programmable Planet resource of online tools, calculators, and references for PCB design. There are many PCB design principles that I would like to cover; hopefully, we can connect and begin with issues designers are facing right now. Consider Max's recent column on Differential Signalling, for example; differential trace routing is challenging and is a topic that I plan to explore in depth because it is critical to embedded design.
Please feel free to comment with any ideas and questions. Thank you so much for reading and I hope we will connect soon.
Related posts: